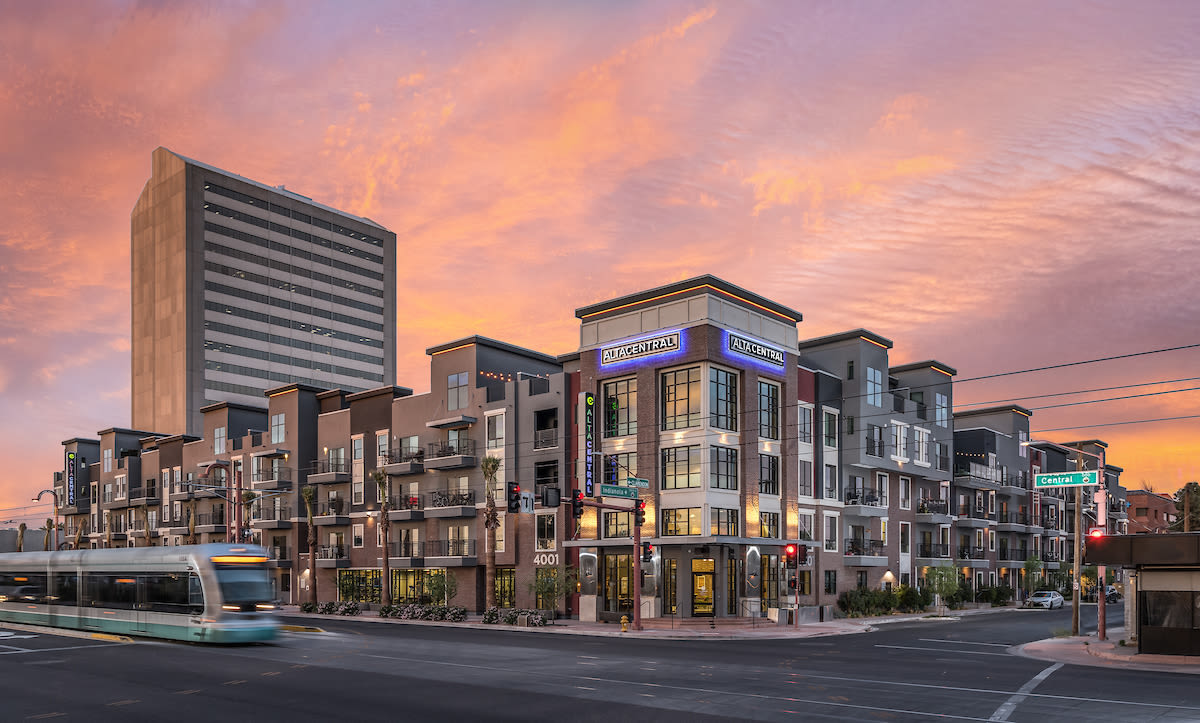 LET THE CITY COME TO YOU
Welcome to Alta Central, where the pulse of the city is right outside your front door. Whether it's a happy hour at a new restaurant, an exclusive gallery opening, or a quick look around one of the local farmer's markets, everything the city has to offer is now at your fingertips.
Nestled in the heart of midtown Phoenix, Alta Central is a highly appointed boutique community featuring one, two, three-bedroom, and penthouse apartment homes.
LEASE WITH EASE

We make leasing easy at Alta Central. Select your home, apply and sign your lease all online in just minutes. You can even text or chat us to schedule your own tour online.
THE AMENITIES

Our bold, modern, and unique designs celebrate diversity and creativity. With energy-efficient appliances, wood-style flooring, and a rooftop dog run, our apartments are fully equipped for you to take care of your dog while we take care of you. Live in Alta Central and let your personality shine through your one, two, three-bedroom, or penthouse apartment home.
Everyone is welcomed at Alta Central. We want you to get to know the city and your neighbors. Whether breaking a sweat in our 24-hour fitness center or treating yourself to a soak in our swimming pool, our community offers a friendly atmosphere that encourages residents to stop and chat everywhere – even in the hallways.
Carefully designed with the discerning resident in mind, Alta Central boasts living and shared spaces filled with unique and modern touches. Here, take advantage of vibrant sunsets against the city skyline from our Skydeck, decompress with a dip in our ultra-luxe pool, or let your four-legged friend play in the sunshine on our chic rooftop dog run.
CONNECT WITH YOUR SURROUNDINGS

Get out and get to know Alta Central. Our city is constantly changing, which means it's always a good time to explore the neighborhood. Craft beer, trendy pubs, and a variety of live music venues and festivals are waiting for you every night. Alta Central's excellent location allows you to have a different adventure every day of the week. Ride your bike on urban streets or jump on the Metro Light Rail, the city is yours.
WE ❤
YOUR PETS
We not only have the perfect amenities for you, we also have them for your dog including our sleek rooftop dog run with stunning city views of Phoenix. You'll love us, and so will your pooch. Don't believe us? Stop by for a tour with your pet and pick up a treat from the front desk – we've always got time for a pat on the head or a scratch behind the ear!
WHERE PROFESSIONAL MEETS CULTURAL